Mr.Ocean Hopper
Life surrounds us with oceans to hop, from personal challenges of every description to global poverty and drought of opportunity. Short wave radio continues to give hundres of millions a boost to higher ground, and Thomas Witherspoon hit on a way we can all help propagate this electromagnetic force for good. Please click Ears of Our World and see about helping however you can.
He Don't Eat Yellow Paint.
Despite rumors to the contrary, radio producer David Goren also doesn't gnaw on potentiometers, although he has confided in us that vintage Radio Moscow QSL cards taste a little like Chicken Kiev.
No, David creates substantial, thought-provoking art from short wave broadcasts. Sometimes musical, sometimes numerical, sometimes neither fish nor fowl but rather radiations from some heart of electromagnetic darkness that has drawn SWLs like moths to flames since childhood.
Wear the new black or flaunt the old black, whatever your glad rags, take a recherché saunter through David Goren's wild and free online galleries.
Shortwaveology.net features David's global shortwave perspective and continually-updated Listener's Blog...
And listen. When you stop by, don't miss sampling David's Goren's live traveling and very, very bookable razzamatazz roadshow The Shortwave Shindig.
Hey, K1NSS Design created that cool logo! Yeah Baby, we're talkin' jumpin' jivin' midcentury modern Euro Flash multiband table radio!

CLICK HERE and order your official Shortwave Shindig Shortwear now.
The style, the sound, you can almost feel the electricity of a smoky little jazz joint named Checkpoint Charlie Parker but a brick toss from the fallen Berlin Wall.
Your mission? Between Schnäpse and the sizzle of the barkeep's beat Telefunken, suss out the unbearable lightness of being a short wave listener.
SWag.
Granted, it's hard to tell the real ads from the spoofs on Dashtoons, but by golly, we'll do our best to help you sort it out. This Official FOSW swag is really for sale at our elegant SWL Boutique ensconsed in Dashtoons Mall at Cafe Press. It's true! Original Short Wave Art by me, Jeff K1NSS, ex WPE2GEP, who cut his radio teeth on BBC, VOA, CHU, Radio Sofia and yes...NSS! No dopey generic clip art, these authentic roots graphics sprang directly from a hand that once tuned the regeneration control of an Ocean Hopper and helped build the very same Knight-Kit.
New Shoes = New Ears
Some less experienced short wave monitors can spend hours of unproductive listening unaware that it may have less to do with radio propagation than proper footwear. Stocking feet might have been well enough when you were sweating out pulling in HCJB on your Knight Kit Space Spanner. But you're big boys and girls now, and it's high time you stepped into comfortable, stylish and kicky Short Wave Shoes before your next monitoring session.
Select from classic Crowd-Pleasers like the Superheterodyne, flagship of Short Wave Shoes' Fall Loafer Line, parting the waves for a flotilla of footwear specially-styled for footsies that can spend many hours under a desk or table. Just knowing that your shoes are Short Wave Shoes can often make the difference in snagging that prize DX. You look good, so you listen better, and that puts you way ahead in this hell-bent for QSL cards crapshoot we call No-Holds-Barred Full-Tilt Short Wave Radio.
Look for the big, bright, ruby-tinted Short Wave Shoes display at your neighborhood radio parts jobber. No need to remove your street shoes! Your dealer's X-Ray Auto-Fitter will take an in-store snapshot of your feet bones, so your new shoes will fit like gloves. You know, like really nice gloves made for feet.

Short Wave Shoes. Ask for them by name, repeatedly, until they read you loud and clear.




NEW FRIEND Bill, N2CQR
Bill's SolderSmoke blog & podcasts are a homebrewer's haven offering real worldly support and sympathy for those who would sling hot lead in pursuit of good times on the short waves. As a bonus, Bill shares his unique perspective gained from many years in the Foreign Service, so you're guaranteed a great story when you pull up a chair to Bill's casually serious but not overly ostentatious workbench.
Click here for SolderSmoke Daily News & Podcasts.
And speaking of great stories click here for a look at Bill's latest book available for Kindle: US and THEM, An American Family spends Ten Years WITH FOREIGNERS.
Bill's other Kindle editions include SolderSmoke -- Global Adventures in Wireless Electronics.
Beyond radio, read about Bill's intriguing Central American adventures in Contra Cross.

Monitors, welcome aboard.
When it comes to action, intrigue and truly exotic international radio reception, there's nothing quite like the Short Waves for armchair adrenalin rush.
Part of the thrill is the fact Short Wave excitement doesn't just happen like gourmet-flavored microwave pop corn. It take skill, persistence, and most of all Friends of the Short Waves – a shadowy fellowship of seasoned amateurs and hard-nosed professionals – twisting dials around the clock, providing intrepid monitors around the world with fresh-as-a-daisy frequencies, programming updates, propagation forecasts, technical innovations and QSL card collecting tips.
No single Friend could handle it all. And the Short Waves have so many Friends, no single web page could individually honor such an extraordinary number of exceptional listeners.
Ongoing, we'll showcase a sampling of those we know, and in the process, we hope to become acquainted with many new Friends to celebrate in our lighthearted manner.
What's more, as World Monitor Command, we'll step up to the plate and introduce these HF Hot Shots accompanied by a groaning Short Wave Smörgåsbord of radio funnies 'n fun – especially tuned to your wavelength.



FRIEND Dave Richards, AA7EE

Keep up the OC at his WORDPRESS BLOG!

Billy Hallicrafters, Excitable Boy
Before we 1960s SWL kids ever heard of Schadenfreude, Hallicrafters Radio got us all hopped-up with pretty slick adventure comics starring a certain Billy Yada-Yada. Looking back on these, one can't help but feeling sheepish about the way Billy lights up when he snags a real-time maritime disaster.
Yeah, yeah, Billy and his damn Hallicrafters save the day, yet we're...troubled. Does this scenario spring from an entirely good place? Frankly, we're asking if it targets an eleven year old's crocodile brain. But who can really say for sure, huh? Sometimes we think there's much to be said for NOT thinking about stuff too much.

FRIEND Thomas " Skip" Arey, K2EI
Follow Skip on Facebook, Twitter & download free his SWL classic Radio Monitoring, The How-To Guide at the North American Shortwave Association's website.
Nikita SWL Khrushchev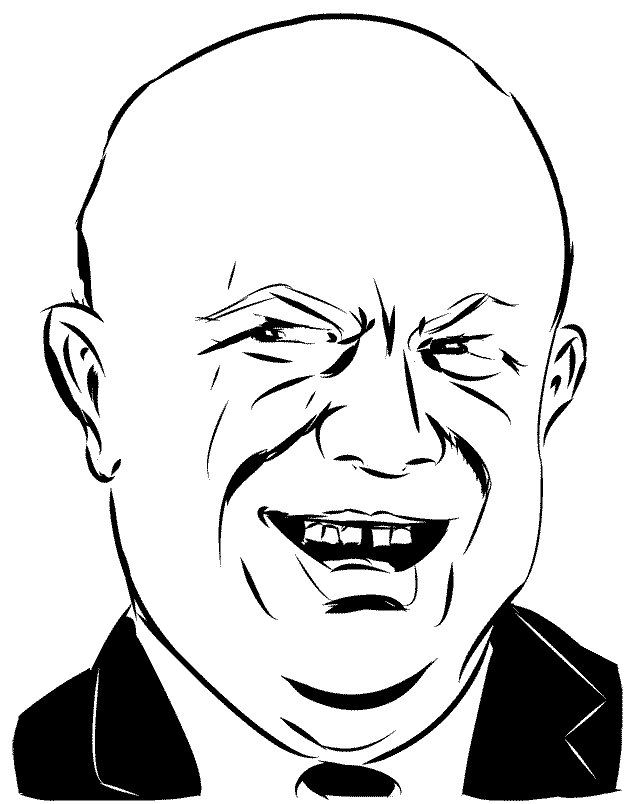 Nikita S.W.L. Khrushchev
In my sixth grade even the dumb kids knew his name.
We mostly called him KROOSE-JEFF, but I attempted a CBS Evening News pronounciation, more of a SHEV for obvious reasons.
In Russian, the name Khrushchev literally means Get Short Wave Hear Radio Moscow Say Bombs Away. Atomic war aside, the main attraction was listening to Red Communists talk trash like Tokyo Rose or Lord Haw-Haw in the movies. Of course, this was the fantasy until the reality of Radio Moscow hit one upside the head and rendered all but the most deadly earnest SWLs unconcious, fighting their way back to the family TV, gasping for Sing Along With Mitch, Hazel, anything but the North American Service of Social Studies Film Strips For the The Ears.
Radio Moscow, what a gyp!