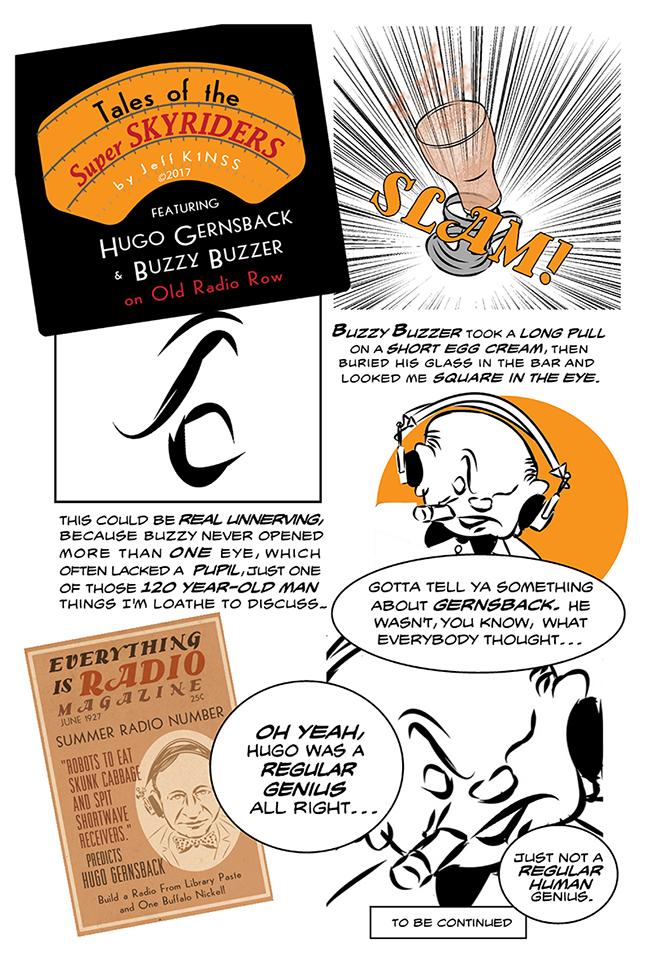 When The Weird Got Going.
Radio got weird the year hams got licensed.

Ya gotta go back to 1905, the days of visionary Hugo Gernsback, among the first electronic retailers catering to shadowy amateur experimenters lurking the streets of lower Manhattan in what was to become legendary Radio Row.

Same time, same streets, young wireless nut Buzzy Buzzer pushed a pushcart loaded with scrap wire, old telephone receivers and sundry assorted electrical junk that crazy kids like himself begged, borrowed and stole to build radios when vacuum tubes were still mysterious lab phenomena.

Streetwise Buzzer and electrical empresario Gernsback made mutual acquaintance, and both dominated Radio Row many decades to come, never exactly competitors, even as Hugo moved his magazine empire uptown, the Skyridin' spirit of his pop page-turners like Short Wave Craft remained true to his original 'hood.

Buzzy's pushcart became "Buzzer's All-Night Radio Lunch Wagon" serving lower Manhattan's finest felafel, shawarma and short wave parts on the side, famous for his slogan "Beat The Creeps While The City Sleeps."

As time passed, both hotshot hobby radio entrepreneurs flourished as flocks of operators took to the airwaves.

Gernsback died in 1967, while Buzzer remains in business in the heart of old Radio Row, corner of Church and Cortlandt, "all night, all right," as he crows to this day.

At 120, the Oldest Man is so old, his callsign has no letters and but one number.

Hey.

Nobody is more New York, New York than Buzzy Buzzer.
So what else would that number be...but two?